Katrin Cartridge System Soap Dispenser 92186 - 500ml Black
Katrin Soap Dispenser 500ml - Black 92186
For Use With Katrin 500ml Refill Cartridges
The new Katrin dispenser range has been designed with everyone in mind and good functionality at heart.
The dispensers are effortless and ergonomic to use, across most ages and physical abilities.
Maintaining the dispensers is also more practical with innovative features to aid the daily work of maintenance personnel.
Just choose white or black!
From the new Katrin Inclusive Black & White Range.
Dispenser can be used for Liquid Wash, Foam Wash, Hand Disinfectant Gel, Liquid Wash, Sanitizer, Toilet Seat Sanitizer and Shower Gel.
Easy to refill with new soap cartridge system.
The lock can be used with or without a key.
The full-face push cover makes using the dispenser effortless for all people.
Braille instructions for visually impaired people.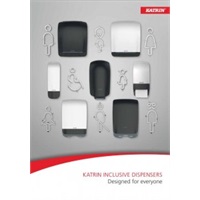 Specifications are subject to change. Images are for guidance only and may vary from the actual product appearance.
BICSc 'Colour coding for the Cleaning Industry' guidance