Katrin System Hand Towel Dispenser 92025 Black
Katrin System Hand Towel Dispenser - Black 92025
The new Katrin dispenser range has been designed with everyone in mind and good functionality at heart.
The dispensers are effortless and ergonomic to use, across most ages and physical abilities.
Maintaining the dispensers is also more practical with innovative features to aid the daily work of maintenance personnel.
Just choose white or black!
From the new Katrin Inclusive Black & White Range
Controlled consumption, minimum resistance to draw and high capacity: 420 - 800 sheets per roll depending on quality
The whole roll is always used. Almost fully used rolls automatically drop into the stub roll position when the roll has a diameter of approximately 7.5 cm.
The empty cores can simply be pulled out side-wards from the back of the dispenser and recycled
Inserting a roll into the dispenser is done by simply letting the paper drop freely, pulling it until the marked line, and closing the cover
The fully opening cutting mechanism is easily accessible and simple to clean
When paper is not visible, there is an easy-to-use PUSH bar for paper feeding
The lock can be used with or without a key
Braille instructions are provided for visually impaired on the PUSH bar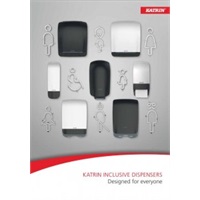 Specifications are subject to change. Images are for guidance only and may vary from the actual product appearance.
BICSc 'Colour coding for the Cleaning Industry' guidance