Katrin Jumbo Toilet Roll Dispenser White 90083
Katrin Jumbo Toilet Roll Dispenser - White 90083
The new Katrin dispenser range has been designed with everyone in mind and good functionality at heart.
The dispensers are effortless and ergonomic to use, across most ages and physical abilities.
Maintaining the dispensers is also more practical with innovative features to aid the daily work of maintenance personnel.
Just choose white or black!
From the new Katrin Inclusive Black & White Range
Big toilet rolls for high frequency usage
Easy paper tear-off to all sides and all edges
New flexible roll brake for better dispensing
The whole paper roll can be used economically with integrated stub roll holder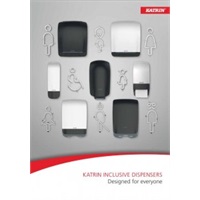 Specifications are subject to change. Images are for guidance only and may vary from the actual product appearance.
BICSc 'Colour coding for the Cleaning Industry' guidance